Strong Like Giselle
Title: Apollo Lee – Strong Like Giselle
Dedication: For my friend, Giselle Ayala, an inspiring fighter.
Date: February 28, 2014
Genre: House
Timing: 2:35:16
Strong Like Giselle is a tribute mix for my friend, Giselle Ayala, who is sharpening her sword for her third battle with cancer. On Friday, February 28, 2014, I mixed 34 deep house tracks to help inspire her in her fight. I hope it inspires you. If it does, will you do me a favor and toss whatever you can spare to help fund her treatment.
I spent a while sitting on this mix without posting it, since I haven't posted any mixes since the Digeum finale about 18 months ago. I took some time to work up the nerve, because the incredible constellation of legendary musicians and DJs that surround her. There's one thing I know about these people, though — they're extraordinarily supportive. So, I figured it was time to brave up and try to be strong like Giselle.
Thanks for the inspiration, Giselle. You're a true warrior.
Track Listing
Rick Preston – Body Move
Sunshine Jones – I Got Your Back (Kruse & Nuernberg Atmospheric Mix)
Julius Papp featuring Jessica Marquez of Uneaq – Your Life
JT Donaldson – Stepper's Delight
Sunner Soul & Sergey Silverstone – Shadow Dancer
Babak Shayan – One in a Million (Robert Babicz Remix)
See Why & Mariano Mateljan – Ajde Zeno Na Stol Skoci
Deep Dish ft Stevie Nicks – Dreams (Surfers Mix)
Wollion – Get Down
Olivier Desmet & Oriental Funk Stew – Hot On Your Trail (Frequent Fliers Remix)
Blue Moon – Keep On Dancin'
Dominic Martin – Strong
Mateo & Matos – The Real Thing
Junior Gee – Whistlebump
Rafaël Fernandez –

L'A

ppel de la Mer
Bourne – Deep Visions
Bucher & Kessidis – Fremont
Joris Voorn – The Deep (Jimpster Remix)
Sebastian Davidson – Keep It Deep (Holger Brauns Remix)
Thomas Sari – An Insight (Soul Minority Deep Mix)
Ralph Good – Deepsta (Topspin, Dmit Ktiz & Matuss Remix)
DJ Le Roi – She Got It
Maya Jane Coles – What They Say
Oleg Z – Remember

DOB

– Without Time Limit
Carsten Rausch – Somewhere in Between (Chase Buch Remix)
Brett Lawrence – Flam Tap (Andrew Lozano Remix)
Dachsund – Ugly Tartare

RIO

– Shine One (Extended Mix)
Skwerl – All Woman (Sandy Rivera's Blackwiz Remix)
Uneaq – Only U
Arturo Garces – Luv (U-Clique All for the Luv Remix)
Ananda Project – Everything You Are (Atlanta Rising EP Version)
Download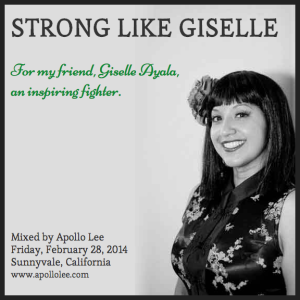 Strong Like Giselle: (264.7 MB MP3 @ 238 kbps (VBR))
Right-click / ctrl-click to download.
Cover photo credit: Harry Who