Remembering Wona
Title: Apollo Lee – Remembering Wona
Dedication: Michael Jon "Wona" Warner (July 10, 1973 – June 29, 2014)
Date: June 30, 2014
Genre: House
Timing: 2:40:42 @ 120 bpm
Remembering Wona: In loving memory of Mike Wona Warner, a beautiful soul made of positivity. In gratitude for the gift of your friendship, I dedicate this humble set of bumps to your cherished memory.
If I were a poet, I might have a shot at adequately describing what a magnificent human being you are and how agonizing your absence is for the world. You're a beautiful, warm, positive force of nature and I am so grateful for the time I spent in your presence. My heart goes out to your family and the community of souls whose lives you improved with your love and your music. Rest in peace, brother.
Michael Jon "Wona" Warner (July 10, 1973 – June 29, 2014) was a father, husband, friend, DJ, house music champion, surfer, positive soul, and a million other wonders. May his family and the community know peace.
Track Listing:
Rick Preston – Spring Fling
Eva Gallo – Thinking of You (Ben Ankes Remix)
Alex Font – House is Our Brother (Dub)
Thomas Schumacher featuring Caitlin Devlin – Every Little Piece (Hot Since 82 Remix)
Soul Minority – Take Me to the Rhythm (Dirt Crew Remix)

QQQ

featuring Sarah Chris – Always There
Fiberroot – Give Your Heart Away (Dadaismus Remix)
Ariane Blank – Declaration of Love (Madloch vs Bollen & Fichtner Remix)
Carlo in Action – Make Me Smile
Daniel Romano – What I Feel
Donnwell – So Much Music
MadeNi – Hot Trip (Jay Peq & Angie Dibujos Remix)
Sunshine Jones – We Are What We Are (Balcazar & Sordo Remix)
Arturo Garces – Luv (U-Clique All for the Luv Remix)
Andrew Lozano – TumbleWeeds
Uneaq – Only You (Johnny Fiasco's Tonic Groove Rendition)
Hardkiss – Broken Hearts
Miguel Migs – Salted (Remix)
Reynaldo Aranha – Arrested By You
Tom Budden – Channel 9
Nora En Pure – The Show
Edo Mela – Back to Chicago
Frankie Knuckles – The Whistle Song (Supernova Remix)
Afro-Mystik – Rhythm Is? (Marques' Deep Mix)
Laera Fuiano – The World
Tom Taylor & Gareth Whitehead – One Love
Stark D – Do U Feel (Gui Marques Remix)
Deepwerk & Ralf-e – The Third (Mono and Mini Mix)
Beauty & the Breakdown – Forever
Aney F – Organic Love
Messenger – New Dawn (Big Al Remix)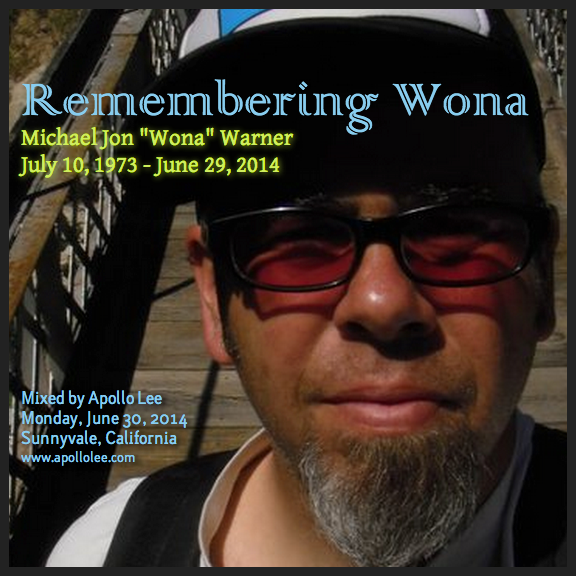 Download: Remembering Wona (279 MB MP3 @ 242 kbps (VBR))
Right-click / ctrl-click to download.
Cover photo credit: Mike "Wona" Warner